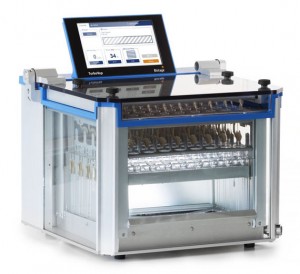 York Analytical has purchased new and advanced PFAS preparation systems to dramatically reduce sample preparation. The new instrumentation can automate part of the sample preparation process and increase the throughput of PFAS samples. Our latest investment in the Biotage TurboVap LV, a solvent evaporation machine, enables YORK lab to dramatically reduce the time for preparations and double the number of samples we prepare in one batch.
Reducing PFAS Sample Prep Time to Make the Environment Safer
In PFAS preparation procedures, the most inefficient part of the prep process is the concentration steps for all matrices. For potable water, these can take about five hours and for soils about three hours.  Now, we save considerable labor on this part of the prep, for example, reducing our potable water processing times to 1.5 hours. 
NYC First Advanced PFAS Testing & Detection Lab
"We're committed to remaining the leader in PFAS analyses in the Greater New York region, and this investment increases the efficiency and turnaround time for PFAS analyses," says Robert Bradley, Chief Technology Officer.  "We're improving efficiency while increasing reproducibility and accuracy using a high-quality system for automated extraction, automated concentration, and analysis." Our PFAS team offers scheduled 1:1 Zoom calls with clients to provide sampling instructions as well as insight and knowledge about different matrices, instantly book your PFAS Testing Zoom call today or contact YORK Analytical Lab for environmental testing services.
Additional Resources and Videos