Analytical Lab Services
York Analytical Laboratories, Inc. is one of the few laboratories in the Northeast to provide expert in-house analysis for all environmental matrices (soil, water, wastewater, air & solids) in support of the following guidelines or regulations:
CT RSR/RCP
Resource Conservation and Recovery Act (RCRA)
NYSDEC DER-10 (Formerly STARS and TAGM)
NJDEP (N.J.A.C. Title 7)
Clean Water Act and CERCLA/SARA (Superfund)
Land Transfer Regulations
A Leader in Environmental Testing Services
York Analytical Laboratories utilize a state-of-the-art Laboratory Information Management System (LIMS) developed by Promium, the most advanced and functional data management solution created specifically for environmental laboratories that test air, water, soil, and emerging contaminants. York Analytical automates the data transfer process from instruments to the reporting software to maximize efficiencies and protect data integrity.
The LIMS provides York Analytical Laboratories with the power to create a broad array of electronic deliverable packages such as EQuIS, GIS-KEY, NJDEP, NYSDEC, as well as a host of Excel-based tables.
York Analytical Laboratories, Inc. prides itself on best-in-class client service and the ability to deliver results on-time. For decades, York Analytical has served environmental professionals in NY, NJ, CT, and PA with reliable sample analysis of water, soil, and air for regulated contaminants. With four locations, including two state-of-the-art NELAC-approved laboratories, York Analytical continues to grow and has become one of the premier full-service environmental laboratories in the Northeast. As an owner-operated analytical laboratory with a strong team of industry veterans and long-tenured staff, York Analytical has the continuity and resources to provide clients with invaluable technical support related to regulatory programs, project planning, and data interpretation.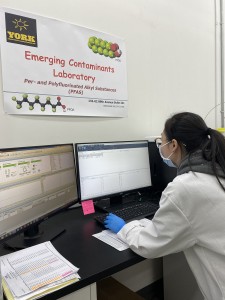 Lab reports and EDDs are available 24/7 to clients via a password-protected web-based access program, YORK DataPORT. YORK DataPORT (available from our homepage) provides additional custom features that help clients prepare for projects and present data to clients, such as tables related to York Analytical Laboratories detection limits, graphs and charts on endpoint results, and bottle requirements.
Excellent Client Services
For over 30+ years, York Analytical Laboratories continues to take a leadership role in the air quality measurement field with significant investment in equipment and instrumentation to measure volatile organics from soil vapors, vapor intrusion, indoor air, and landfill gas. York Analytical provides a turnkey TO-15 sampling package of certified clean summa canisters, flow controllers, and filters that have been engineered to simplify sample collection in the field.
York Analytical Laboratories takes great pride in its courier service which reliably and predictably covers New York State south of Albany, including all boroughs of NYC and Long Island, of Connecticut and New Jersey. York Analytical has also accommodated clients in Buffalo and Niagara Falls as well as in Pennsylvania.
The York Analytical Laboratories in-house team of couriers pick-up samples and drop-off bottles/cooler/canisters at client offices or job site locations. Most requests can be handled with just one day's notice and can be scheduled easily through our website.
York Analytical prides itself on delivering results on-time.
The standard turnaround time is 5 to 7 working days. Rush priority services – including same day and next day are available upon request.

ELECTRONIC DATA DELIVERABLE (EDD)
York Analytical Laboratories actively support over 150 electronic data deliverable (EDD) formats for many state and national regulatory database systems. York Analytical generates EDDs using the Promium Element LIMS system, which provides the power to create EDD packages such as EQuIS, GIS-KEY, NJDEP, NYSDEC as well as a host of Excel-based regulatory comparison tables. In addition, York offers a wide range of highly-customizable formats to meet almost any client electronic need. Our EDD staff is fully trained to help clients decide which EDD will help them meet their project requirements and business needs. The York Chain of Custody was updated to include a specific list of EDDs to ensure requests are correctly communicated when samples are logged-in.
The most common types of EDDs that we provide are:
Simple Excel Spreadsheet
Customized Regulatory Comparison Excel Spreadsheet (see Downloads page here for examples of YORK Reg Comp EDD)
EQuIS
EZ-EDD (a form of EQuIS)
GIS/KEY
NYSDEC EQuIS (click here for link to NYSDEC site)
NJ DKQP
NJDEP SRP HazSite (click here for link to NJDEP site)
More Environmental Testing Services