YORK FORCE #2: The Wonder Women of York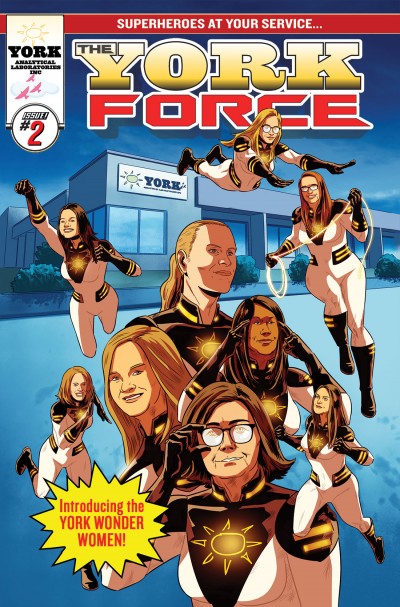 The core of York Analytical's commitment to Clients Service revolves around an extraordinary set of professionals that provide best-in-the-industry project management, customer service and technical responsiveness for client field service teams.
They are truly superheroes within York and for our clients, and inspired us to feature their heroics in a second YORK FORCE comic book.
Like the first comic spotlighting our first-rate Courier Team, our new story features the evil Dr. Dr. Chaos plotting to release dangerous contaminants into the environment. The comic book is based on actual York Analytical staff, and highlights the extraordinary teamwork and communication skills they put in play to thwart Chaos.
The second YORK FORCE introduces Wonder Women Allison Bennett, Tina Blocker, Shanna Bonaparte, Lidya Gulizia, Kim Karcich, Kristen Lopez, Nicolette Lovari, Cassie Mosher, Jenna Pitta-Daniels, Lea Sherman, Patty Werner-Els.
Every day their ability to deliver reliably to clients is critical to success. We hope you enjoy reading the story of how they go out of their way to get the job done against any and all obstacles.
You can read online, or request a physical copy if you haven't received one. As always, we look forward to your feedback. Enjoy!