Save The Date: September 18, 2021
York Presents the Mayor's Cup Charity Regatta
The prestigious annual Mayor's Cup Charity Regatta celebration will be presented in 2021 by York Analytical Laboratories at the Long Island Yacht Club in Babylon.  Founded and organized by the wonderful Save The Great South Bay organization, the Regatta will be held on Saturday, Sept. 18 from 4:00-7:00 pm.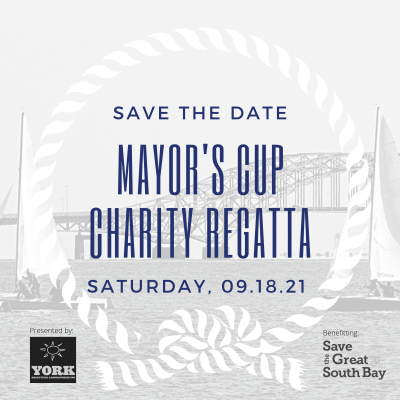 This year's event will be dedicated to former Babylon Village Mayor Ralph A. Scordino – a long-time supporter of the organization and an active advocate for a cleaner Great South Bay.
"Supporting the efforts of Save The Great South Bay allows us to make a high impact contribution to the Long Island communities we serve," said Michael J. Beckerich, CEO and President of York Analytical Laboratories, Inc.
"Our friends at Save the Great South Bay bring not only environmental awareness, but also tangible action to protect the southern shores of Long Island. The Mayor's Cup Regatta is a wonderful event to celebrate and reconnect with the many friends that defend this special place."
There will be much more to come from York in the coming months describing Long Island community events and opportunities to support Save The Great South Bay.
Please view the following links on the event and York's role in supporting this vital effort to clean the Long Island's waterways and communities.