06-07-20
Could it be? The day that we've been anxiously awaiting but thought might never come. NYC is entering phase one of reopening on Monday, including 32,000 construction sites that have been closed since non-essential projects were shut down in March.
With the thousands of hardhats back on the job, safety and health are a top priority.
Here at York, we've been out there every day for the past 77 days (but who's counting?) and continue to put our employee's and our client's safety at the forefront of all we do. Along with masking up employees, our YORK patties program will soon be replaced by YORK disinfecting wipes (while supplies last)!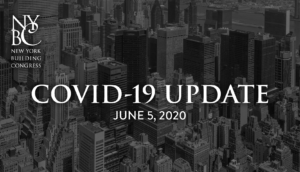 Be well. Keep talking.
Peace,
Michael
Contact:
Michael J. Beckerich
CEO + President
York Analytical Laboratories, Inc.
M. 845-598-6320
E. mjbeckerich@yorklab.com
W. www.yorklab.com