Benjamin Gulizia Joins York Analytical Laboratories as Laboratory Director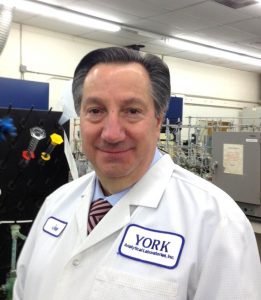 February 27, 2013
York Analytical Laboratories, Inc. has expanded its management team with the addition of Benjamin Gulizia as the company's new Laboratory Director.  Ben is a versatile and well-experienced industry veteran who has played a significant role at other successful laboratories including TestAmerica, HydroLogic, Enseco, and Environmental Testing and Certification Corporation.
Ben joins York after nine years as the Laboratory Director at  TestAmerica's Savannah laboratory, one of the largest commercial environmental sample facilities in the region.
At York, Ben will be responsible for all day-to-day laboratory activities, including data generation, staff management and training, reporting and quality oversight.
"York has an impressive body of work through the years as a high production analytical laboratory," says Benjamin Gulizia, Laboratory Director.  "Its scientific core and client-focused culture are as strong as any laboratory in the country.  York has the vision and business expertise to evolve and succeed with the fast changing and increasingly demanding Metropolitan New York marketplace."
York's Robert Q. Bradley, who served as Laboratory Director for the last 23 years, is now as Senior Scientist implementing special strategic projects and addressing high-level client and technical issues.
"The addition of Ben's senior leadership to our management team  allows us to immediately focus on emerging areas of environmental testing, implement operating efficiencies and address future client needs as quickly as anyone in the industry," states Robert Q. Bradley, Senior Scientist and Director of Special Projects.
In 2013, York will continue to maximize its recent expansion of the CT facility and the addition of York's first NJ facility to provide increased value to clients.
If you are interested in talking with York about helping your organization better manage sample analysis, please contact Michael J. Beckerich (email) to schedule a discussion at your office or one of York's locations.