Introducing YORK FORCE: The Spider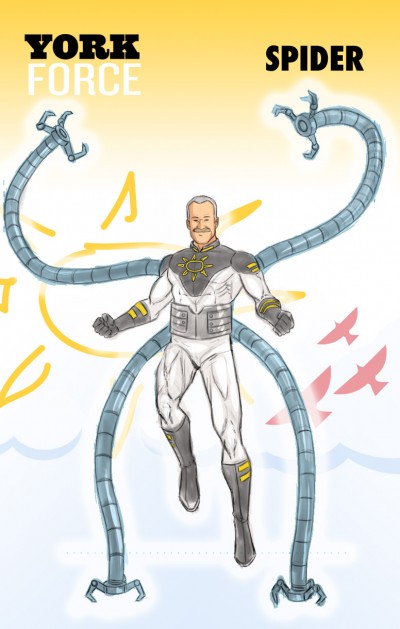 Who has four superhuman mechanical arms, enabling him to carry more than six Summa canisters and coolers at a time?
Who can glide effortlessly through gridlock traffic, making sure pick-ups and deliveries are on time — or even early?
Who has a stylish moustache and a physique that is the envy of many he encounters throughout his daily, jam-packed travels?
The Spider, that's who!
While on the job for York Analytical, The Spider is a mild-mannered courier with a magical ability to be precisely where he needs to be, at exactly the right time.  He knows New York City, Queens and Brooklyn like the back of his hand.
The Spider is a physically imposing force and can look like a tough guy to deal with.  But rest assured, you won't meet a more caring person.
While at home and off the job, Tom Altenberg is just as focused and productive as The Spider.  The superhuman courier by day is a disciplined martial arts instructor, imparting the knowledge and skills of jiujitsu during morning and evening classes throughout the week.
Tom is always there for his large, extended family who reside throughout Long Island and Queens.  And he's also there for you, his customer.  Not only does he pay close attention to what your needs are as a client, he also watches his orders like the proverbial hawk!
To his friends, he's Tom.
At YORK Analytical, he's THE SPIDER, a superhero in the YORK FORCE.