The selection of the 4th annual York Holiday Ale was a process like no other in a year unlike any other. Naturally, it was virtual.
In collaboration with our good friends at Lithology Brewing Company, four worthy finalists were selected for YORK by Kevin Cain, Lithology's mad genius brewmaster and president.
Normally, our clients and partners would have anointed the winner in a tasting event at Lithology in Farmingdale, NY. But 2020 demanded creativity, so we hit the road to deliver 4-pack samplers of the finalists in advance of an October 28 live Zoom Virtual Tasting. Hosted by Manny Coelho of Lithology (pictured below with Michael Beckerich) the event was a blast, the choices were tasty, the comments hilarious and votes collected by email.
Our friend Richard at Gallagher Bassett Technical Services Division offered unique tasting notes: "Well, for a start, the isopropyl toluene notes reveal themselves with great subtlety against the shimmering background aromas of CP-51; the benzene finish with just a hint of lead is to die for; the whole ensemble vaults magnificently over NYSDOH Upper Fence and complements the ASPB nuts & pretzels perfectly."
A Holiday Ale that ROCKS!
"You're my blue sky, you're my sunny day."
Happy Holidays & Cheers to Brighter Days in 2021!
In keeping with the holiday spirit and good fun, YORK staff put together the video singing the famed Allman Brothers song.
The Allman's "Blue Sky" was an inspiration for this year's holiday ale, says Michael Beckerich, YORK president and CEO. "As 2020 comes to a close, we're looking forward to bluer skies and sunnier days in 2021."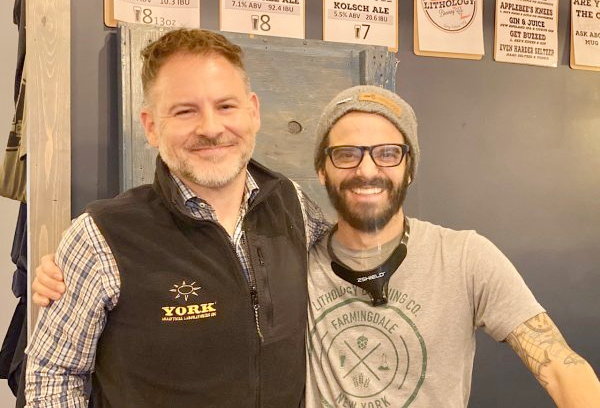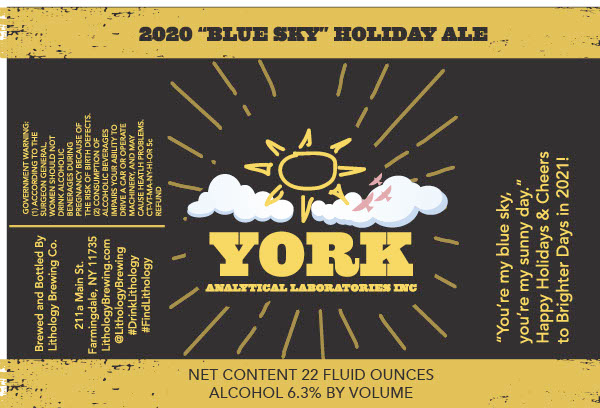 "Blue Sky" Ale Tasting Notes
According to Kevin Cain, the Blue Sky Ale is "a standard American style ale (before haze became the craze). Malty backbone, darker in color. High dosage rates of hop additions during boil for a more pronounced hop bitterness. Slight citrus aroma with earthy, pine, and floral notes from Centennial, Willamette, and simco hops. Easy to drink yet full of flavor."
As always, YORK will be on the move to distribute this year's ale to our friends and clients all over Greater New York, New Jersey and Connecticut regions. This year we will be making quite a few house calls as so many people are working from home. Don't worry, we will not be sharing pictures of you in your slippers and robe!